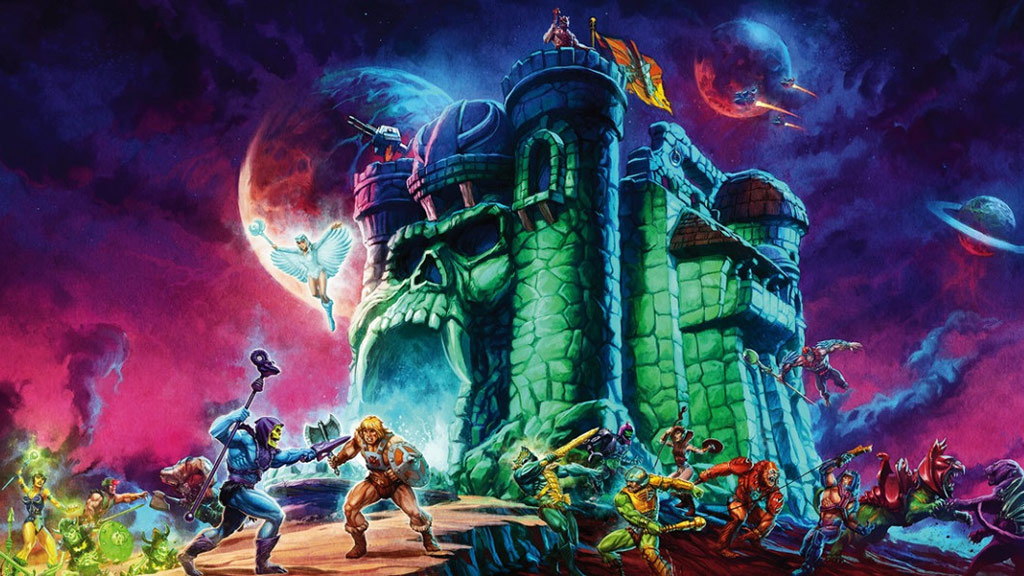 The real estate market is hot right now, and some sought-after properties of the past are being thrust back into the spotlight, such as this spacious, multilevel home that comes complete with its own dungeon and has been coveted by the Masters of the Universe for decades.
It's been nearly 40 years since Prince Adam first raised his sword to the air and called out "By the power of Grayskull!" to begin his transformation into the mighty He-Man, the most powerful man in the universe. Now, ahead of two new animated series on Netflix and accompanying toy lines for each, old-school fans and a new generation are bonding over the classics thanks to Masters of the Universe (MOTU) Origins, Mattel's kid-focused, collector-craved line of action figures, vehicles, and playsets inspired the 1980s originals.
Somewhat surprisingly, Mattel wasted no time in getting right to the centerpiece of any collection: Castle Grayskull.
Launched first-to-market at Walmart and slowly rolling out to other retailers, the MOTU Origins Castle Grayskull Playset is dubbed "The Fortress of Mystery and Power for He-Man and His Foes." One look at the vintage-inspired box and those who grew up in the '80s will find themselves instantly transported back to a time when Castle Grayskulls could be found stacked high at Toys "R" Us in an era where it — and many other MOTU toys — were a staple of department store ads, Christmas catalogs, and kids' wish lists around the world.
On the surface, Castle Grayskull — like other offerings in the MOTU Origins line —looks like the original toy that millions of kids played with. The box looks authentic as well, but part of the magic of Origins is that they're not exactly what they were. A side-by-side comparison will reveal differences in sculpt, size, and materials, but to the naked eye — especially one that hasn't seen the legit original in a while — the Origins Castle presses all the nostalgia buttons of the original.
It's a formidable playset for kids — and let's be clear that this is built to be played with — and a fine diorama for adult collectors and toy photographers. This is a set that is distinctly aimed at two audiences, one of which is ages 6 and up.
The Castle's Jaw Bridge is activated by using the Sword of Power as a key to open Grayskull's mouth for 5.5-inch action figures to come and go as they please. The Castle opens up to reveal a familiar interior with four main rooms and a trio of up-top perches that are perfect for positioning warriors for battle. The features of the original playset are there, including the throne that swivels to activate a trap door in the floor; a working elevator; the computer room; and a dual-sided flag that flips to reveal who is in control of the Castle.
Castle Grayskull also includes accessories, such as a movable ladder, laser cannon, cloth flags, assorted weapons and racks, and a combat training machine. The included Temple of Darkness Sorceress action figure is a great bonus as well with a look inspired by a classic minicomic from the '80s.
While the Castle itself is a fantastic playset, one tantalizing element that recently entered the picture is expandability.
The original Castle Grayskull came with a cardboard robot that hasn't been reproduced for the Origins version. Instead, the humanoid robot will be released as a real action figure with the Power-Con exclusive Secrets of Grayskull set that also includes a 3D dungeon grate and tentacle, and the Spirit of Castle Grayskull. Additionally, upcoming sets, including the Origins Wind Raider vehicle and the Deluxe Battle Damaged He-Man and Battle Cat, either feature pieces that connect directly to Castle Grayskull or accessorize it.
Overall, I think Mattel knocked it out of the park with this one in creating an affordable homage to the past that is built even better to put up with many hours of legit play as the evil forces of Skeletor, Hordak, and others face off against He-Man and his crew.
Now, with Castle Grayskull ready for action, could a Masters of the Universe Origins Snake Mountain be close behind? After all, allegedly, Skeletor only captured Castle Grayskull for himself once — in 1987. He should really have a prime piece of playable real estate for himself!